Battery Monitor vs Bluetooth Module: What's Best to Monitor Your System?
Mar 13th 2020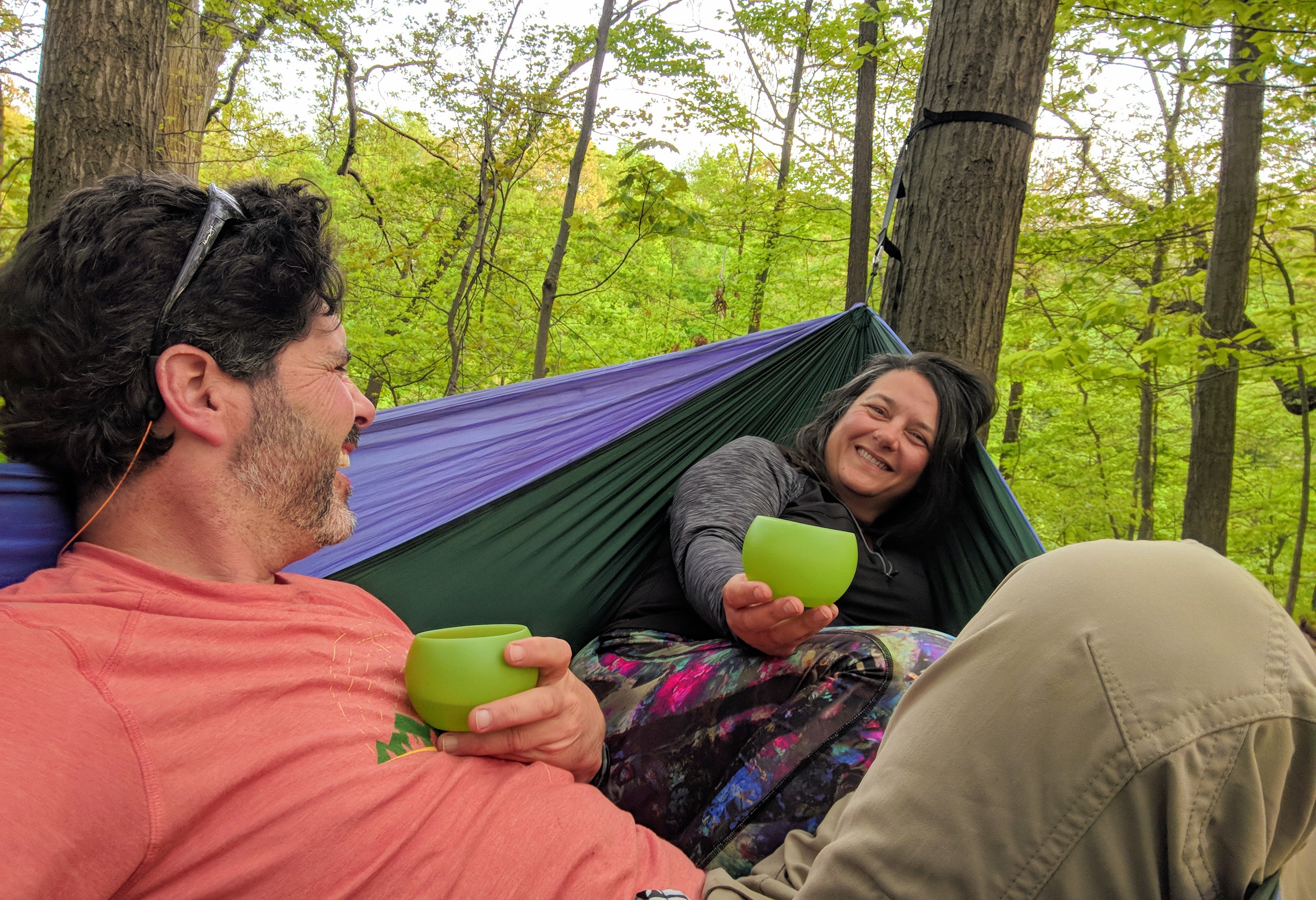 With all the decisions necessary in installing a solar powered system, the last thing that may come to mind is a monitoring device. But once you begin collecting, storing, and using solar energy to power your life, you'll want to keep tabs on how your new system is working. This information can be helpful in learning what your system can do.
Both the Renogy Battery Monitor and Bluetooth Module are helpful additions to any Renogy solar system, eliminating the guesswork out of monitoring your system. There are some key feature differences between these two products, which we've outlined below in order to help you decide which is best for your system, your rig, and your lifestyle.
We recently upgraded to all Renogy components for our s olar powered system. Before 2019, we had a very simple battery monitor which only displayed the voltage of our battery, from which we extrapolated its status. We lived with this for about 6 years before installing the Renogy Wanderer charge controller with Bluetooth BT-1 module. During that time, we really didn't know what we were missing. This upgrade has made a HUGE difference in our ability to find the best angle/placement of our solar suitcase as well as monitor the performance of our battery, and what we can run with our new components, especially during the winter months of lower solar gain.
Two Options for Monitoring Your System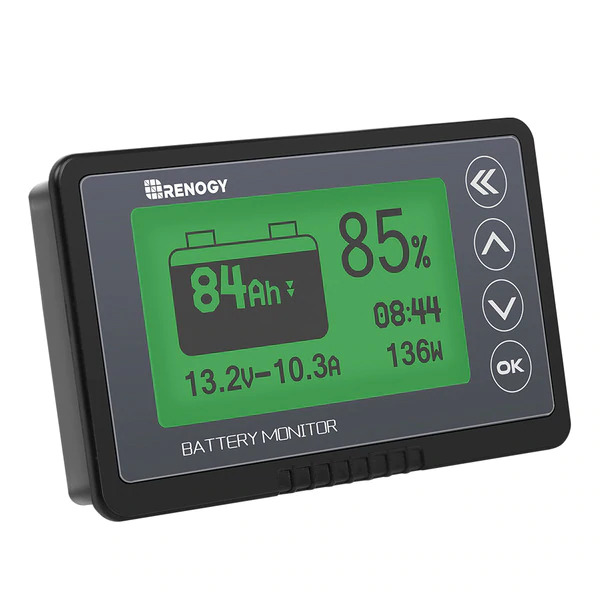 Compatible with any type of battery, this unit connects to a shunt linked between the battery, charge controller, and an inverter. After correct calibration, it effectively monitors the amperage flowing out of the battery bank as well as the battery charge status -- displaying that information on a LCD screen. It will also indicate, based upon the load, the time to charge or time to discharge. This unit measures 3.9 x 2.4 x 0.7 inches.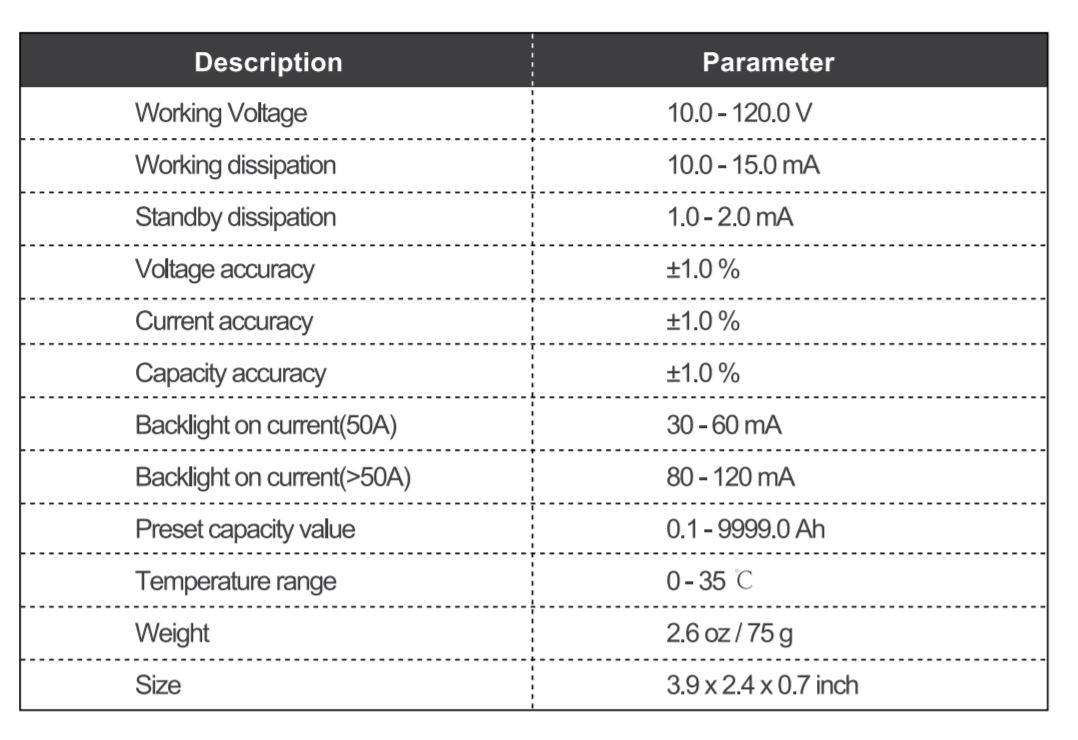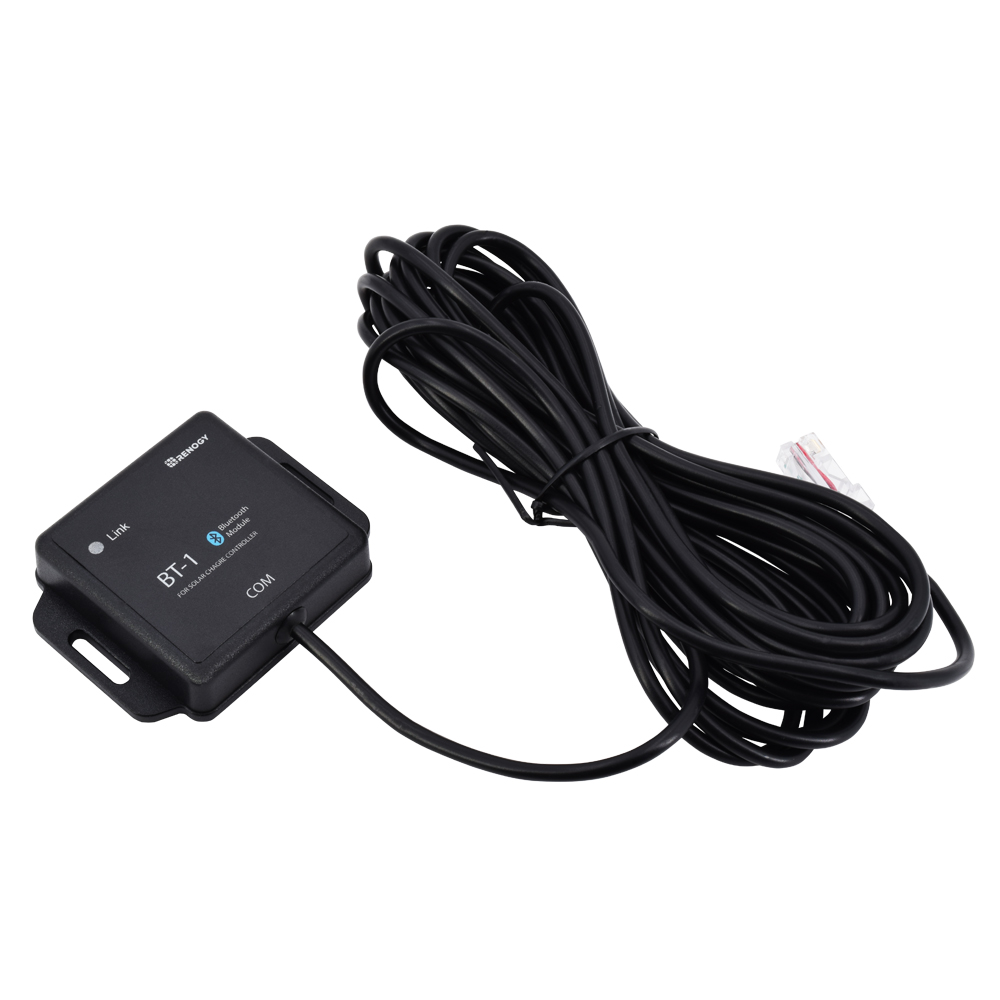 This module also works with any type of batteries but is only compatible with select Renogy charge controllers. Via a downloadable app, and quick set up, you can use your smartphone or tablet to monitor the wattage coming from your panel(s) and battery charge status, without getting up from your hammock. And, if you have a Rover Charge Controller (MPPT) or Wanderer 10A (PWM), you can also monitor the load on your system via the app. The signal range is about 50 feet between your portable device and the BT module, and the unit measures 2.6 X 2 X 0.61 inches.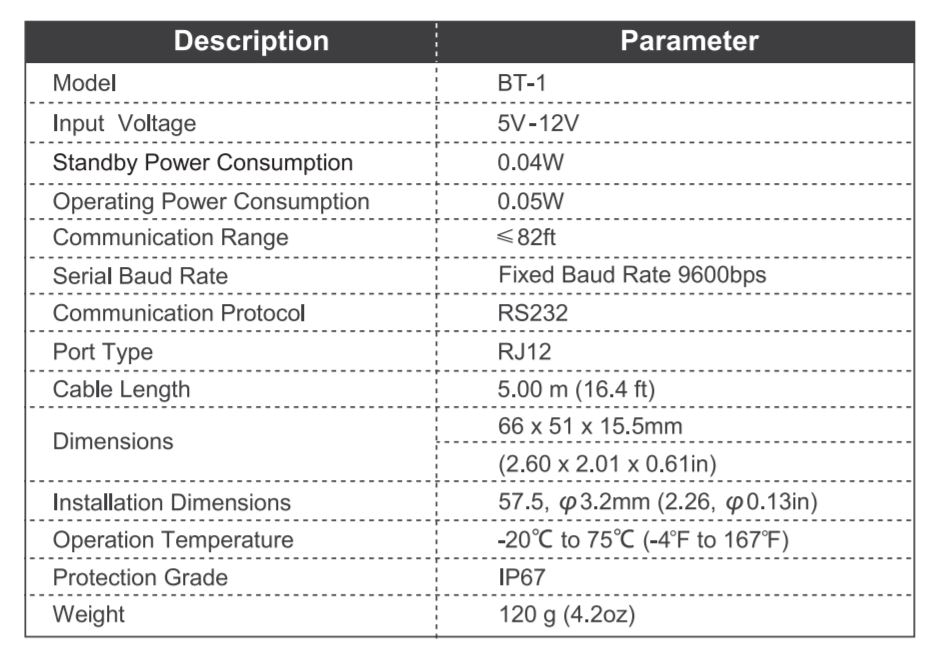 Best Applications

The Battery Monitor is a good idea for anyone without a smartphone, or who doesn't mind needing to stay close to their system in order to keep tabs. Additionally this monitor will work with any battery type and nearly any solar components regardless of make or manufacture. If you have a collection of components or are upgrading only a few, this might be your best option. This monitor can also work with all sorts of other battery applications, such as golf carts, electric scooters, medical devices, etc.
The Bluetooth Module caters to anyone with a smartphone or tablet, and those who want a bit more freedom in how they keep tabs on their system. It is also compatible with any battery type. Within a range of around 50 feet, you can see your system's performance. In addition, the BT-1 allows users to see historical performance data, as well as alter charge controller settings (on Rover charge controllers only).
Ease of Installation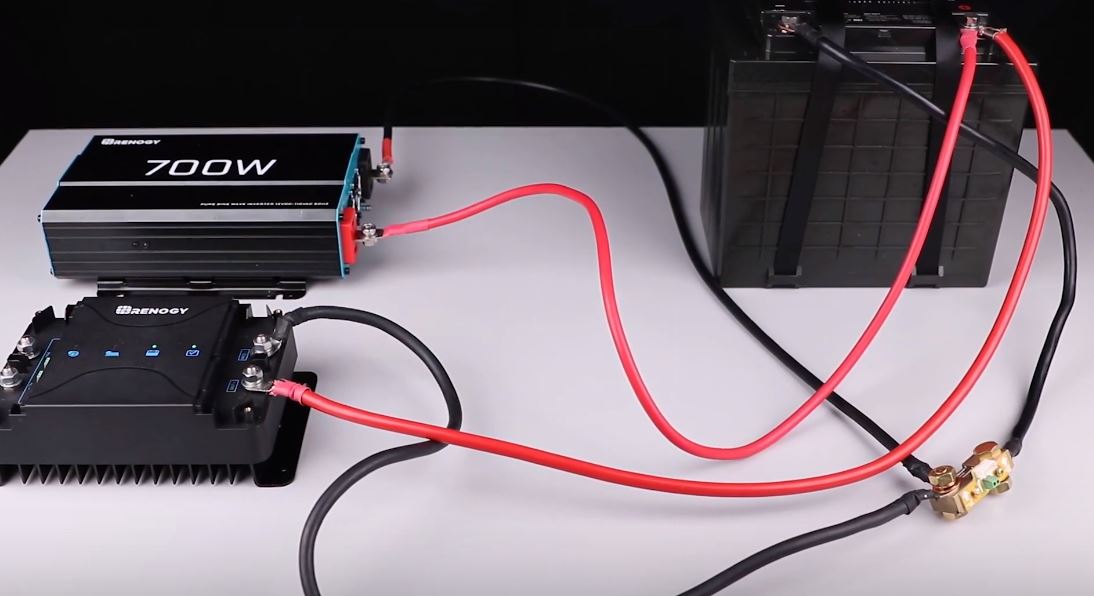 The Battery Monitor is slightly more complicated to install, because it uses a shunt (included) which needs to be connected to the negative terminals between the charge controller, battery bank, and inverter. The LCD screen is connected via an insulated wire, giving you some freedom to install the monitor in an easy to see location, rather than just keeping it in your battery compartment. If installing on a wall or in a cabinet within your RV, you will need to be able to fish the wire through to your battery or electronics compartment.
The Bluetooth Module is very simple to install . Just secure the unit near the charge controller, then connect it using the telephone jack outlet on the controller. There is no LCD screen on the unit itself, as it sends information about your entire solar powered system to your smartphone or tablet via the free downloadable app. There is no need to fish wires through a wall or cabinet, just open up the app, enter the provided password, and start monitoring.
Limitations
The Battery Monitor only monitors the battery status; it is not intended to keep up with stats for the other components within your solar powered system. Because of the wired connection, if the included line is not long enough to reach your ideal install location, you will need to splice on additional line.
Since the Bluetooth Module is not weatherproof, it is not currently compatible with solar suitcases with built-in charge controllers. Also, the current app will not let you change the temperature settings from Celsius to Farenheit. Finally, the load monitoring function of the BT-1 app will only work if your charge controller has a load terminal (which is currently available on select charge controllers listed above). Thus, you may consider how much of your system you want to monitor before choosing a charge controller .Contact Renogy tech support for more information, as their line of charge controllers is always being updated and upgraded.
Cost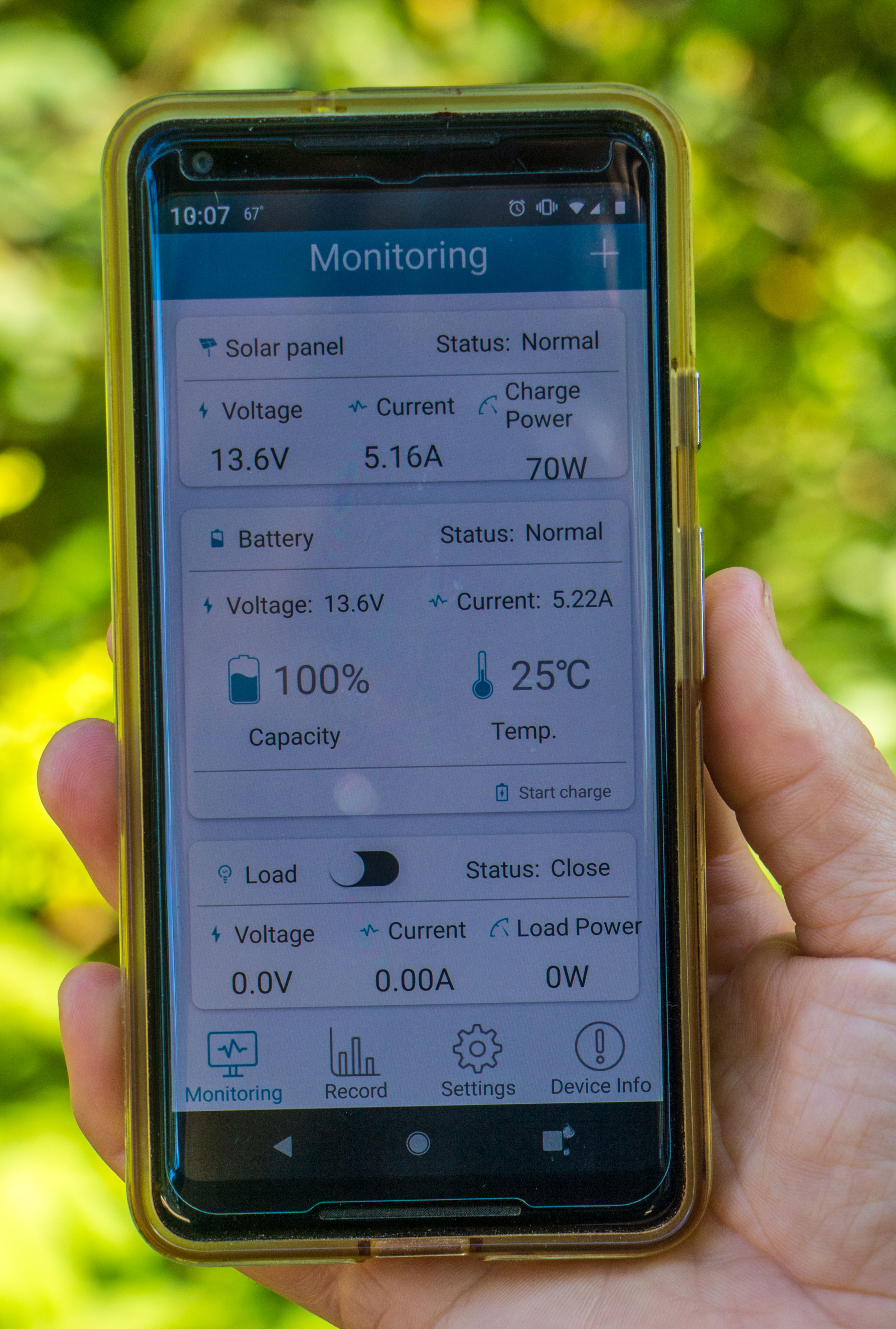 At more than twice the price, the Battery Monitor ($99.99) is more expensive than the Bluetooth Module ($39.99) and downloadable app (free) for keeping tabs on your solar equipment.
We've truly enjoyed the ease and simplicity of the Bluetooth Module and app, giving us just enough information to keep tabs on our system; but, more technically-minded people may lean toward using the Battery Monitor for sake of charge specificity and programmability. Your rig, system, and lifestyle, will likely lead your to one or the other these monitoring methods, but neither will let you down.

Learn more about Shari & Hutch's solar powered adventures on their website and join them on the road via social media at Facebook, and YouTube!