Description
The Renogy 100W Lightweight Solar Panel enhances module efficiency while minimizing its weight. It is the perfect option for any off-grid solar system, especially for transportation applications such as RVs and boats. This solar panel frame features a lightweight substrate and laminate, perfect for outdoor applications.
This solar panel combines high efficiency (PERC) monocrystalline solar cells with half-cut cell technology to improve electrical performance and power generation efficiency. This panel comes with pre-drilled mounting holes, solar connectors, and a junction box that allows easy and fast installation.
Install Recommendations:
Modules must be mounted using silicone structural adhesive on the backside of the panel. Grommet holes are intended only for non-mobile applications. For detailed installation methods, please consult a local contractor for guidance.
Mounting Recommendation: Modules must be mounted using silicone structural adhesive on the backside of the panel, grommets are only to be used for non-mobile applications. For detailed installation methods, please consult a local contractor for guidance.
Note: No other accessories are equipped with the single panel. Please email us or refer directly to product listings if you want to know more information about accessories.

If you have any questions regarding this product, please submit a case.
Key Features
High Power Output
The Renogy 100W Lightweight Solar Panel can provide an average of 500 Watt-hours of electricity per day (depending on sun availability).
Easy to Transport, Carry and Install
The solar panel suits most curved surfaces as it is bendable within 240 degrees. It weighs only 1/3 of the rigid panel and presents an all-black glare-free appearance.
Industry-leading Tech
It is equipped with half-cut PERC cell technology that enhances solar light capture and electrical performance, therefore improving the output efficiency.
Reliable & Durable
This solar panel accomplishes with IP67 rated waterproof junction box and solar connectors. Withstand up to 5400 Pa of heavy snow load and up to 2400 Pa of high wind.
Ready for Installation
The panel comes with pre-drilled mounting holes and 2.3 feet long solar connector cables for quick and easy installation.
Package Includes
100W Lightweight Monocrystalline Solar Panel
1 x
| Specifications | |
| --- | --- |
| Maximum Power at STC: 100W | Open-Circuit Voltage (Voc): 23.5V |
| Short-Circuit Current (Isc): 5.51A | Maximum Operating Voltage (Vmp): 19.4V |
| Maximum Operating Current (Imp): 5.20A | Maximum System Voltage: 600VDC |
| Maximum Series Fuse Rating: 15 A | Module Efficiency: 15.7% |
| Operating Temperature: -40℃ to 80℃ (-40℉ to 176℉) | Dimensions: 43.0 x 22.9 x 0.12 in (1093.0 x 582.0 x 3 mm) |
| Weight: 2.4 kg / 5.3 lb | Output Leads (Pair): 12AWG 1ft/2.05mm2 30.48cm |
Warranty Information
Panels

25-year power output warranty: 5 year/95% efficiency rate, 10 year/90% efficiency rate, 25-year/80% efficiency rate

5-year material and workmanship warranty
Certification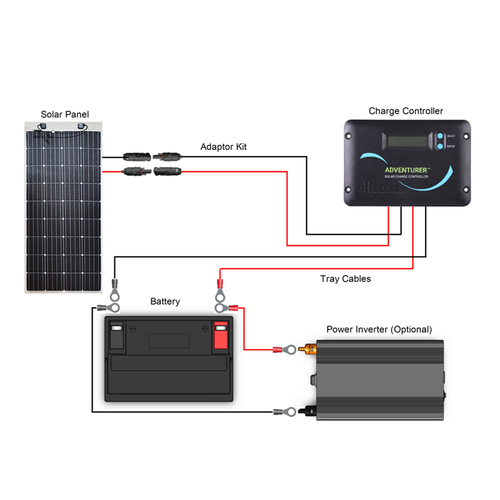 1. What do I need to complete my off-grid solar power system?
A solar panel has to be connected to a charge controller to regulate current, and a battery to store the electrical power. You will need adapter kit cables to wire the solar panel(s) and charge controller, and tray cables connecting the charge controller to a deep-cycle battery.
2. What do off-grid and on-grid mean?
On-grid simply means solar power equipment (array or solar panel) is connected to the electrical grid, while off-grid refers to systems that are not connected to the grid and therefore store the generated power for later use. Off-grid systems are not affected by grid blackouts.
3. Why is my solar panel underproducing?
Solar panel performance may be hindered for a number of reasons. Most commonly environmental conditions such as indirect sunlight, temperature rise, cloudy sky, and dirt and stain build up on the top glass will cause a reduced power output.
4. How should I connect solar panels to an electrical circuit (series vs parallel) ?
Solar panels can be connected in series or in parallel to meet your electrical circuit size and power demand. Connecting solar panels in series will have the effect of adding up their operating voltage output, while system current output will be the same as that for one panel. While connecting solar panels in parallel will have a different effect; individual panels operating current output will add up to be the system output current, while system output voltage will be the same as the output voltage of one solar panel. To meet the optimum power output and system rating for your power system, you can use both parallel and series connections.
5. How many solar panels do I need?
The best way to gauge how many solar panels you need is to understand and define the power load needed from this system. Power is measured in Watts, and capacity is commonly measured in Watt-hours (multiplying power output in watts by the required number of hours of operation multiplied by a safety factor of 1.5-2). Therefore, it is wise to size your battery bank first based on the minimum required capacity, and accordingly, decide how many panels or how much power input is needed.
6. Can I walk on flexible solar panels?
We suggest not. Walking on solar panel will exert excessive pressure on small area, it may cause cracks and damage of the panel.
7. How to clean solar panels?
We suggest regular maintanence to swipe the dust, sand and other dirts away. Built up dirt and stain will reduce the power output of the panel.