Which Is The Best Caravan Solar Panel Kit For You?
May 25th 2023
Which Is The Best Caravan Solar Panel Kit For You?
With solar panels, people can produce the energy required for their everyday needs. And if you own a caravan, installing solar panels lets you generate enough energy for your camping.
With a caravan solar panel kit, you can freely explore urban and remote locations with your regular and essential amenities still functioning at optimum capacity. Any caravan owner can leverage the surplus energy from the sun to power their electronics, lighting, and other appliances within their living spaces.
This blog post discusses the various key components of caravan solar panel kits and their roles in energy generation.
We will take you through all you need to know before installing a solar panel kit on your caravan to ensure a smooth transition to a self-sufficient power source. We will also look at the importance of choosing the appropriate Renogy solar panel kit to meet with optimal performance of your caravan's energy requirements.
Table of contents
---
What Components Of Solar Kits Do You Need?
There are components of a solar kit that you can install on your caravan. There are also various kits to choose from.
Renogy has tailored these kits to meet your peculiar energy needs. We have four major kits with their various features and benefits.
1. Caravan Solar panel kits
Renogy caravan kits are designed to connect you to a power supply in your motor house or any other mobile application. This kit has components suitable for mobile projects, including cable housing units and mount charge controllers. These make installation very easy.
Caravan kits are easy to use and offer comfort for your travels by eliminating noisy generator sounds.
You can install caravan kits on your mobile rooftops. That protects them from being stolen when you are up and about, away from your caravan. You can quickly recharge your batteries with them no matter the weather condition.
Their installation process leaves your rooftops free from holes and leaks. You can position the solar panels at an angle that maximizes energy production and increases performance by up to 40%. The caravan solar kit is so efficient it allows you to run your refrigerator all day and night.
We, however, recommend that you use a DC refrigerator for better-regulated power consumption.
Key features
Efficient Solar Panels: The solar panels incorporated into the caravan kit are specially designed for off-grid systems, caravans, greenhouse systems, boats, and other mobile applications. With its bypass diodes, this kit can utilize the sunlight available in low-light and shaded environments to generate excellent energy outputs. You can easily install the panels on any top surface.
30A DC-DC: The caravan kit can charge all service batteries originating from two DC inputs, be they solar, alternate, or combined. It maximizes solar energy with its inbuilt Maximum Power Point Tracking (MPPT). It utilizes a 3-phase charging profile to charge your service batteries to full capacity using the appropriate voltage levels. You can set the caravan kit up with smart alternators because of its inbuilt Voltage Sensitive Relay (VSR). This kit is compatible with both smart and traditional alternators. With its temperature and voltage compensation features, this kit offers you prolonged battery life spanning many years.
Smart protection features:
Overheat protection
Battery isolation
Reverse current protection
Alternator reverse polarity protection
Over-voltage protection
Battery temperature protection
Over-current protection
Solar panel reverse polarity protection
Some products under the caravan solar panel kits category are:
2. Starter Kits
With a starter kit, you can take your initial steps at being independent in power generation. This kit suits people trying out caravan solar systems for the first time, and it contains all the necessary components to generate energy in your caravan.
You can get a starter kit in 30W-400W, and they are flexible for you to use anywhere as you begin your solar adventure.
The starter kits comprise:
Solar panels
Adaptor kits
Charge controller
Battery
Tray cables
Power inverter
The primary essence of a starter kit is to recharge and monitor your 12-volt battery bank. With a starter kit, you should not run your DC loads independently of the solar panels or controller. Instead, connect all your DC loads directly to the 12-volt battery bank included in the kit.
The starter kit also utilizes a Pulse Width Modulation (PWM), which controls how the energy generated in the solar panels is distributed to charge the batters, leading to the higher efficiency of the solar system.
Key features of starter kits
Efficient: Starter kits are very efficient. They have high solar monocrystalline cells. Starter kits can also ensure excellent power generation and system performance in shaded and low-light areas.
Reliable: Starter kits are also reliable. They comprise EL-tested solar modules; hence they don't have hot spots. They include aluminum frames which makes them resistant to rust. That makes them a good choice for extended outdoor use. They can last for decades on your caravan without corroding. They are protected from outdoor elements and low-pressure water jets, thanks to the IP65-rated junction box included.
Intuitive: Starter kits are well sealed; hence they can produce energy even in flooded environments.
Safe: Starter kits from Renogy are multiple layers of protection to guard against short-circuiting, reverse polarity, and overcharging. They are also secure and won't fall off your caravan after installation because they are well-fastened via the pre-drilled holes on the back of the panels.
Expandable: The Renogy Wanderer 30A PWM Charge Controller offers system expansion of up to 400W
Some products in our starter kit category include:
3. Complete Kits
Complete kits suit people with mini RV fridges, electronics, outdoor lighting, and LED lights in their caravans. The complete kit can power these electrical appliances and fittings so you can enjoy added comfort in your caravan.
Complete kits comprise:
100W flexible monocrystalline solar panels
charge controllers
DC-DC Battery Charger with MPPT technology
Lithium batteries
Inverters
Cables
Accessories for intuitive wiring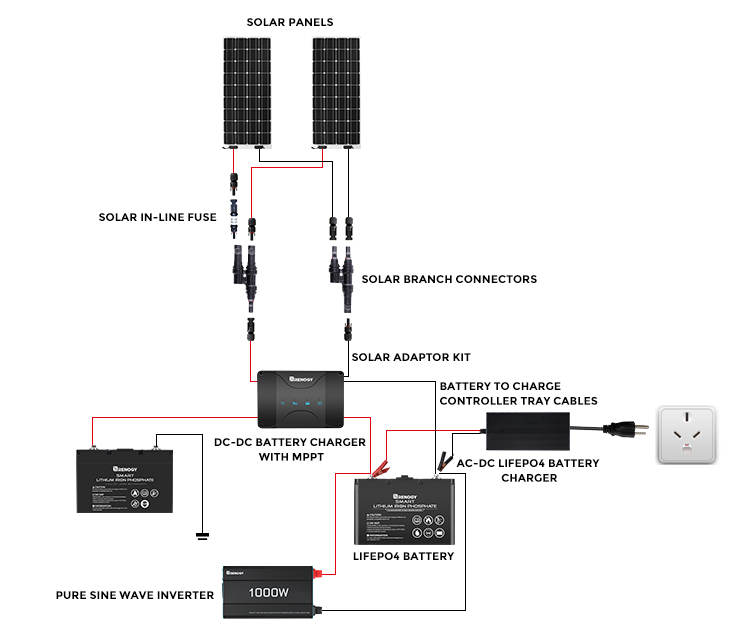 Basic features of a complete kit
Efficient: Complete kits comprise high-efficiency solar cells. They are easy to install on curved surfaces and produce as much energy as on flat surfaces. The solar panels are flexible and thinner than conventional panels, making them ideal for any surface setup. They are resistant to harsh weather conditions. They can withstand up to 2400Pa of extreme winds and up to 5400Pa of snow buildups. That means you can still enjoy a steady power supply in unfavorable weather conditions.
Safe: Renogy complete kits are safe to use on your caravans. This kit protects your solar system from electronic overload by activating its automatic shutdown feature. The automatic shutdown feature protects against low battery voltage, extreme temperatures, and short-circuiting. Renogy Complete kit offers more safety with its built-in interior backup DC fuse.
Smart: Complete kits offer smart features like regulating the charging process and ensuring that batteries are fully and properly charged at accurate voltage levels.
Auto-Balance: Complete kits can safely connect several batteries without stirring up non-uniformity problems. It utilizes battery cells that are high in quality and ensures that the system produces over 4,000 charging circles during its lifespan without damage from extreme temperatures. The kit also comprises RJ45 communication ports that make data transmission possible to meet all your usage requirements.
Some products in our complete kit category include:
4. Premium kits
Renogy Premium kits comprise advanced technological components. They are very efficient and highly reliable. The premium kit comes with a 100W eclipse solar panel, offering electricity and aesthetic appeal.
The panels are sleek and light, not heavier than fifteen pounds. The primary purpose of the premium kit is to recharge and manage 12-volt battery banks. This kit requires running all your DC electrical gadgets directly on the 12-volt battery bank.
The main difference between the premium and the starter kit is that it offers a Bluetooth module and more efficient solar panels.
The premium kit also provides a Maximum Power Point Tracking (MPPT) charge controller that can determine the maximum operating point for the system's solar panel voltage and current. That improves the efficiency of the kit by up to 99%.
For the premium kit to function effectively, you will need a 12-volt 100AH battery for the 100-watt and 200-watt kits and a 12-volt 200AH for the 300-watt and 400-watt kits.
The key features of the premium kit include:
Efficiency: The premium kit hasMonocrystalline panels that increase cell efficiency by 21%. The kit can also supply adequate power in low-light environments and cloudy weather. With its rover charge controller, the kit can achieve high conversion rates of up to 98% and a high tracking efficiency of up to 99%.
Reliability: Renogy premium kits are highly dependable. They can serve you with an uninterrupted power supply for extended periods. They cannot be damaged by environmental particles or low-pressure water jets because they comprise an IP65-rated junction box.
Safety: Premium kits can securely fit any surface you install, even on your caravans. They have pre-drilled holes on the panel backs, allowing quick and secure mounting. They also have MC4 Inline and ANL fuse components that protect your battery and charge controller.
Some products in our complete kit category include:
How Much Do Solar Panel Kits Cost?
Solar panel kits for caravans are usually very affordable. There is a product for everyone, no matter your budget. Solar panel kits' average cost per watt ranges from £0.8 to £2. As a guide, you can get a 100W-12V solar panel kit from Renogy for as low as £105.
Tips To Get the Most Energy Out Of Your Solar Panel Kit
When you finally lay your hands on a caravan solar panel kit, you want to ensure that you get the most energy from your investment. Interestingly, there are a few measures to get the optimal performance from your kit.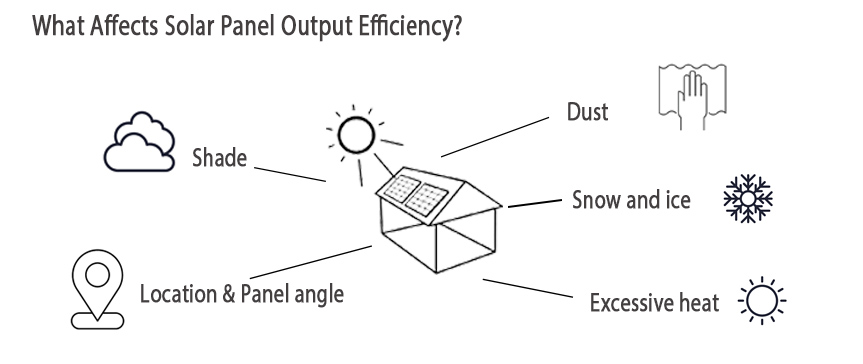 Here are a few tips to help have the best of your caravan solar:
1. Ensure to position your solar panels in such a way that they can maximize exposure to sunlight. Place them to face the sun directly. Keep them away from tree shades and other obstructions as much as possible.
2. Tilt your solar panels at ideal angles, depending on your location, to help optimize their efficiency.
3. You should clean your solar panels regularly to avoid the buildup of dust, debris, dirt, and reduced efficiency.
4. Constantly monitor your solar panel system to ensure it performs optimally. Endeavor to check for loose connections or damaged panels if you notice reduced energy generation.
5. Ensure to take proper care of your caravan's battery system. Keep it charged and in good condition always.
6. We recommend using LED lights and energy-saving appliances to minimize power usage in your caravan.
7. Learn to manage your energy efficiently. When lights and appliances are not in use, you should turn them off. Also, prioritize your energy consumption so as to better utilize the energy available to you.
8. Consider consulting a solar professional like Renogy to ascertain the best caravan configuration correctly. If need be, you can add more solar panels to your current system if you are not getting enough power output.
Different Types of Solar Panels
1. Monocrystalline Solar Panels: These types of solar panels are dark colored. They are more efficient in power generation and performance. They are, however, expensive, though the best option for people who value excellent output.
2. Polycrystalline Solar Panels: These types of solar panels are light blue colored. They are less efficient than the monocrystalline type. They are, however, cheaper and a better option for people on a tight budget.
3. Rigid Solar Panel: It comprises both monocrystalline and polycrystalline cells. It also has an aluminum frame and a protective tempered glass layer. The rigid solar panel is the commonest solar panel available for purchase. Renogy's rigid solar panels range between 30 and 200 Watts.
4. Flexible Solar Panels: These panels from Renogy comprise durable polymer material that makes them thin and light, a characteristic that makes them the most suitable choice for rough surfaces. Flexible solar panels for caravans are also perfect.
5. Folding Solar Suitcases: This type of solar panel is made with the same materials as rigid solar panels. They are suitable for configurations that have limited space available.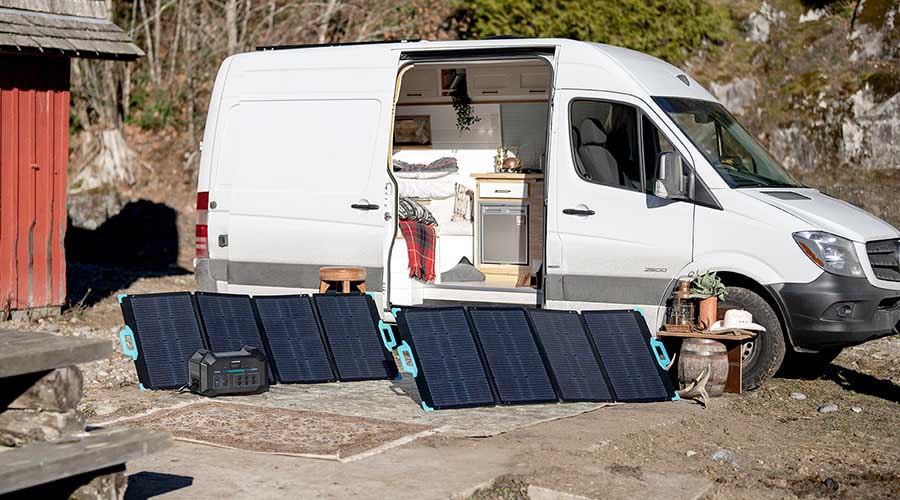 Can You Go Fully Off-Grid With Caravan Solar Panels?
Yes, you certainly can go entirely off-grid with caravan solar panels. You can join many other persons who install solar panels on their caravans and depend solely on them to generate electricity while they travel or camp in a remote location. With caravan solar panels, you can produce healthy renewable energy for your appliances, lighting, and recharging needs.
What Size And How Many Solar Panels Do You Need?
To ascertain the number of solar panels you need, you should first get the product of your pane's wattage and the number of peak sun hours. You thereafter divide your daily energy usage by the result of your first calculation.
How many solar panels do i need?

How to calculate solar system size?

How to Install Solar Panels for Caravan?
Installing solar panels in your caravan may seem tricky, but with the right approach, it is what you can do. Follow these steps to install solar panels for your caravan:
.
Step 1: Install solar panel mounts. The panel mounts hold the panels securely on the caravan top.
Step 2: Next, mount the solar panels on the caravan top using any preferred method as long as it's strong enough to hold the solar panel in place.
Step 3: Wire the solar panels with the MC4 connectors that come with the kit after turning off the caravan's electricity supply. You should also take necessary precautions while doing the wiring.
Step 4: Mount the solar inverter and connect the charge controller to the solar panels close to your batteries.
Step 5: Connect the solar inverter and the charge controller to the batteries.
Step 6: Start the system and check properly to ensure all the components work well.
Do You Need A Solar Battery For Your Caravan?
The function of the leisure batteries in caravans is to power the caravan. But with a caravan solar panel system, this battery doesn't have to power your vehicle during the day, as you have enough energy from your solar panels. Unlocking power on-the-go, learn the ultimate guide to lithium leisure batteries.
You only need a leisure battery to store the energy generated during the day and power your camp van at night when the sun is not in sight.
Conclusion
Caravan solar panel systems are a great innovation to tackle the deficiency of power in caravans. With a caravan solar kit, you can go energy independent in your caravan and reduce the cost of energy since you are leveraging the sun's energy.
For the best caravan solar panel kit in the UK, check our products at Renogy.
At Renogy, we ensure you get a smooth transition from fossil fuel-based energy generation dependence to renewable and more sustainable power generation.
---
Related articles:
Solar Panel for Camper Van| Complete Guide
Efficiency of Solar Panels: Guide for UK Consumers
How Many Solar Panels Do I Need in the UK
Battery Storage for Solar Panels | 2023 UK Guide
How Long Do Solar Panels Last In the UK?